Bounty Hunter Wine Bar & Smokin' BBQ
At Bounty Hunter, we believe not only in providing you with expertly curated wines from all over the world, but in providing exquisite culinary experiences as well. That starts right here in Napa with our restaurant and retail shop: Bounty Hunter Wine Bar and Smokin' BBQ.
Wine Bar & BBQ Hours
Sunday - Thursday | 11am - 9pm
Friday - Saturday | 11am - 11pm

Mouthwatering barbecue, a full bar, and a fun, relaxed setting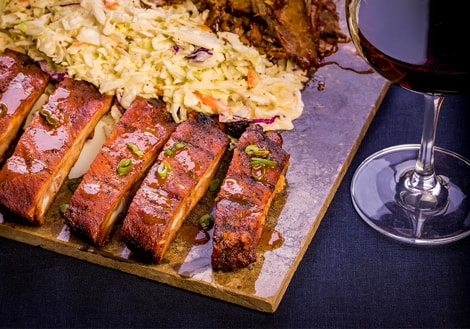 Located in the heart of Downtown Napa, Bounty Hunter is a place where you can enjoy a delicious and relaxed meal and have access to a library of wines and spirits that can be enjoyed on their own, as a part of a tasting, or paired to elevate any dish on our menu.
Enjoy local favorites like our BH Beer Can Chicken, or stop in for some of our beloved specials, like our Prime Rib. Every menu item is guaranteed to be delicious, and comes with a pairing suggestion from our astounding lineup of wines.
We've got over 400 highly-allocated wines on the shelves and 40 wines available by-the-glass, so you can scan the 18 page wine list on any given day and find a snapshot of truly great wines from around the world. Be sure to check our new addition of the world's rarest and finest spirits, featuring over 40 American whiskeys available by the glass or for purchase.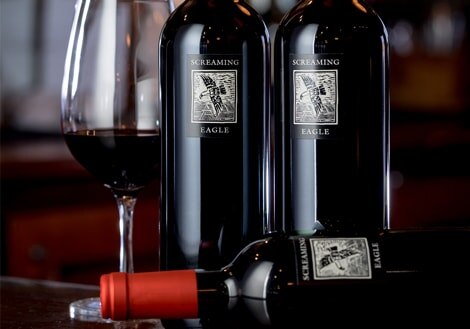 The Holy Grail
Wine lovers come from far and wide for a peek at our Holy Grail.
The Holy Grail is our selection of some of the rarest wines in the world. Located in the back of our wine bar, this case holds legendary California labels like Schrader, Araujo, Sine Qua Non, Harlan, Shafer and Screaming Eagle, not to mention international cellar staples like Penfolds Grange, Sassicaia, Domaine de la Romanée-Conti and Château Latour.'The Grail' also boasts next generation icons such as Hourglass, Cade, Justice, and our newest slugger Jurisdiction.
We don't want our faithful guests to have to take out a small loan while enjoying a great bottle at the table, so all of the wines in the Grail are offered at retail pricing. Want a closer look? Feel free to ask your Wineslinger to swing open the doors and climb in.
And we haven't forgotten the spirits-lovers either. We have a selection of Holy Grail spirits available by the glass – some of the rarest you'll find.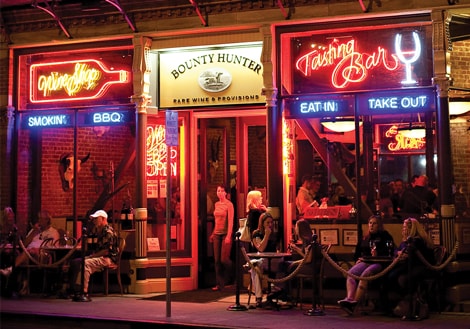 Retail shop
Not only can you come in for a hot meal, our retail store on site means that if you've tasted a wine you can't resist, you can purchase a bottle to take home or gift before you part. Of course, we've got wine experts to help you make your selection.